Alumni Spotlight: Building a Business in the Nigerian Paint Industry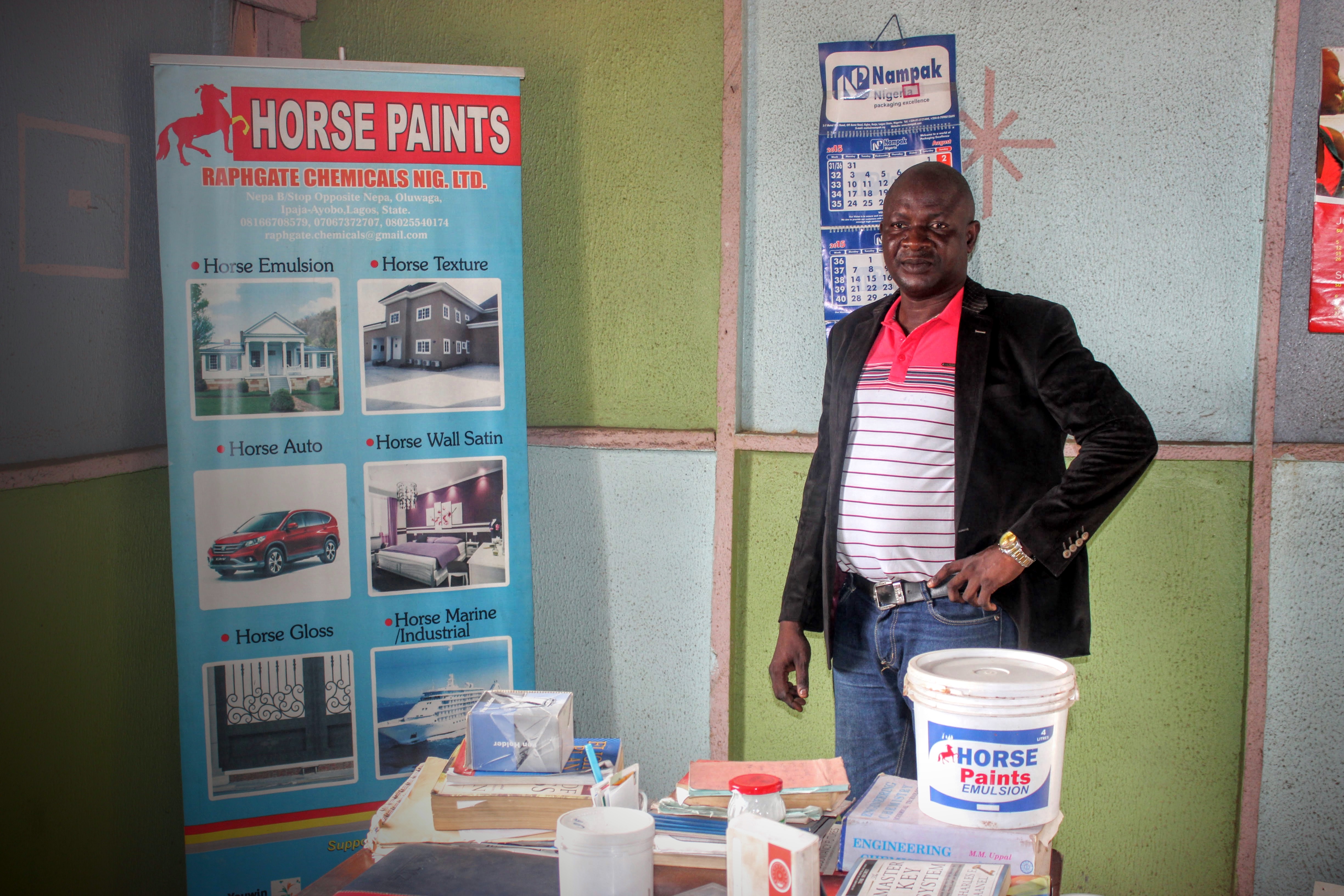 This week, our FATE Alumni Spotlight is on Raphael Atere, the MD/CEO of RaphGate Chemicals Nigeria Plc., a Lagos based paint manufacturing company that produces quality industrial paints. Prior to starting his paint manufacturing company, Raphael worked as a marketer in the Nigerian paint manufacturing industry where he gained skills and knowledge in the business of paint.
Raphael became an entrepreneur in 2002 when he identified an opportunity in the Nigerian paint industry where there was not enough supply of good quality paint products to meet the growing demand. He returned to school, interned with leading paint manufacturing companies, and gradually commenced the business of paint manufacturing. At that time, he also put together his pioneer team members most of whom still work with RaphGate today. Raphael is an alumnus of the two flagship programmes from the FATE School of Entrepreneurship.

He completed the Aspiring Entrepreneurs Program (AEP) in 2002 and the Emerging Entrepreneurs Program (EEP) in 2010. Coincidentally, it was through the AEP that he also made his first big sale as he met a fellow graduand during the 2002 AEP graduation ceremony who later on became his first major client.

Currently, Raphael has 10 full time staff and about 15 contract staff on his payroll and has served over 50 clients including government organizations, individuals and major distributors across the southwest geopolitical region. He says his company is gradually becoming a household name in the paint manufacturing industry as they are building a competitive edge in the provision of high quality paints at relatively low price.
After his initial startup capital of Twenty-Eight thousand naira, he got microfinance loans which helped him expand his business. In 2011, he was one of the beneficiaries of the Federal Government Youwin funds which helped him further scale up his operating capacity. Raphael believes the Nigerian government has to do more to make funding available to new and small businesses.
Since Raphael participated in FATE's EEP Program in 2010, he has been mentored by Mr. Muhammad Yinusa, now CEO of Dunlop Nigeria. Raphael believes that Mr. Yinusa's role as a mentor to him and his business is immeasurable and encourages everyone to seek and learn from a business mentor, as well as get every necessary trainings before starting a business. He believes that partnership and networking are very key for business growth and expansion in Nigeria. Most of his sales, and even staff have been as a result of referrals from clients and associations.
He strongly believes in accountability and strong business structures including good corporate governance practices which is why he has a Board of Directors in place. He encourages prospective entrepreneurs to be disciplined, especially in the area of the company's finances and not mix this with personal finances. Over the next few years, Raphael is targeting an annual turnover of 250million with about 50 team members. Part of the vision to attain this is also to ensure that his products are distributed across the nation and his brand becomes a household name in Nigeria.
He strongly believes in the key role that MSMEs play in aiding economic growth in Nigeria and hopes the government can create an entrepreneurship-friendly environment which is not only focused on large businesses. Critical areas in this regard include easy access to funds, subsidised training programmes, infrastructural development and huge support for indigenous and made in Nigeria products and brands like his.


The most important lesson Raphael has learnt as an entrepreneur is never to seek for funding before identifying and fully understanding your market. He learnt this lesson earlier on in the Startup phase and this has helped him realize that if you get funded before defining your marketing strategy, your capital will disappear and you'd have to start all over again. Finally, he believes that trust, honesty, hard work, consistency and a good team with good welfare are invaluable to helping your business become sustain