FATE Foundation Hosts the Summer Entrepreneurship Leadership Camp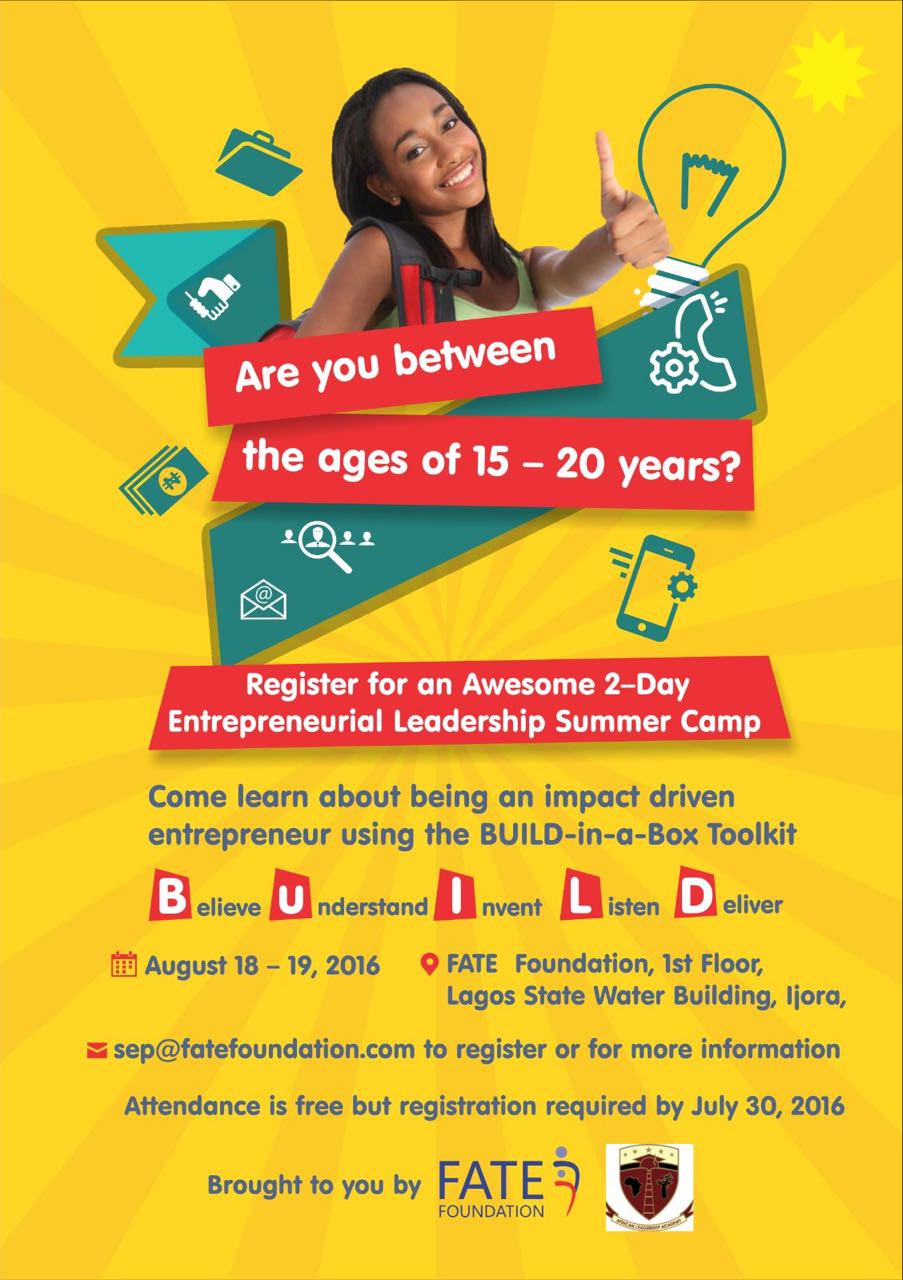 Do you know anyone between the ages of 15-20 years old interested in setting up an impact-driven business? They can register for a Free 2-day entrepreneurial leadership camp hosted by FATE Foundation. Facilitator Students from the African Leadership Academy will lead the participants on entrepreneurial leadership using the (Believe,
Understand, Invent, Listen and Deliver) BUILD-in-a-Box model.
Date: August 18-19, 2016
Time: 9am – 5pm
Venue: FATE Foundation, 1st floor, Lagos State Water Corporation building, Ijora, Lagos
Registration: Please click on this link to register https://goo.gl/oCi9iB
Class size: 30. It is free but only the first 30 to register for the class will be admitted.
For further information kindly email sep@fatefoundation.com
About the BUILD-in-a-Box Model
African Leadership Academy (ALA) seeks to support ALA students who would  like to run entrepreneurial leadership camps across Africa through BUILD-in-a-Box (BIAB); a portable toolkit that provides content and
teaching materials that allow a team of facilitators to run a  professional TWO DAY Entrepreneurial Leadership camp. The curriculum is  based on BUILD, a unique curriculum framework for teaching youth entrepreneurship as a way of fighting unemployment and engaging youth to lead solutions to local problems. Students are first trained to Believe that they have the power to change the world around them, and embrace a mind-set of continual improvement. They then learn to build empathy and understand the community they intend to serve with an entrepreneurial venture. Young entrepreneurs then Invent a wide range of possible solutions, prototyping and testing their ideas by Listening to feedback from potential customers and other stakeholders. After a process of
iteration and improvement, they Deliver impactful new ventures and solutions by mobilizing resources and leveraging networks.