How this Female Entrepreneur Turned Her Passion for Baking to a Thriving Business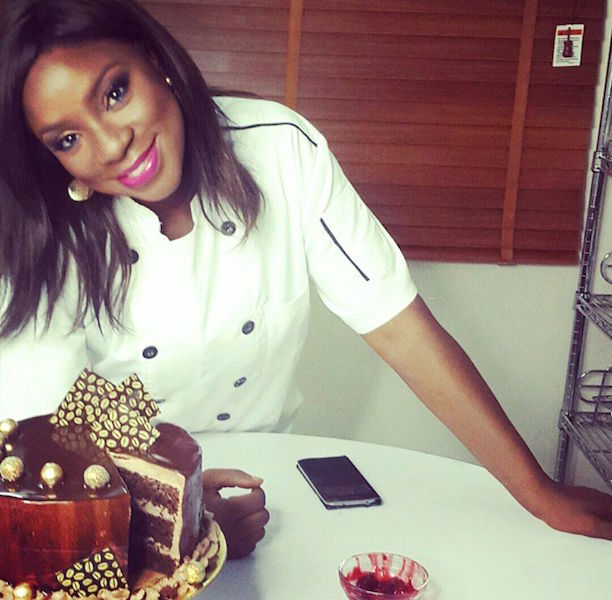 Our Entrepreneur Profile for this week is on Motunrayo Akinseye, CEO of Licious Desserts a company whose focus is on making mouth watering desserts, cakes, ice creams and pastries.
Motunrayo attributes the origins of her bakery business to her mum and dad. Her mum had always baked for them growing up and Motunrayo was always by her side to mix the ingredients and clean up. Turning simple ingredients to a sweet treat was something she always looked forward to and this exciting mother-daughter bonding experience eventually turned into what is her business today.
While her Mum was showing her the ropes in baking, her Dad ignited the business mindset in her also from a young age. He would buy just about anything they created, so naturally he encouraged her by buying her cakes and was the first of her many customers which eventually extended to other family members, friends and neighbours.
Motunrayo chose to study Business Administration at the University. She had initially planned to do a food related course but was advised by her Dad to do something that would still serve as a useful foundation to her on whatever career path she decided to pursue after school while not limiting her to a food related course. Baking was still top of her mind so right after graduating from University, she enrolled in a 1 year programme at Le Cordon Bleu Culinary Institute, London were she got an Advanced Diploma in Frecheville Patisserie. After the programme, she came back to Nigeria to establish her bakery business.
Licious Desserts initially started out in 2004 from her Kitchenette under the name Farmhouse Bakery and Patisserie by supplying bespoke cakes to friends and family who ended up referring their products to others. As word of their cakes and desserts spread, their domestic kitchen could no longer keep up with the demand and so in 2007, after a decision to rebrand the name to Licious Desserts, Motunrayo opened up their first official business located on Adeniyi Jones Avenue, Ikeja. As their products and services continued to expand and it become more important to create a "home away from home" feel for their fast growing customer numbers, the business moved to their current location on Allen Avenue. The places houses "Cafe Licious" which provides a wide array of brunch and easy meals for customers.
From a small daily production in her Kitchen all by herself, Motunrayo's team size is now made up of 22 staff and together can handle hundreds of daily orders to effortlessly overseeing dessert catering for a crowd of over 4,000 guests. Their dessert menu line is also very wide boasting over 40 cake types with the red velvek gateau being their current best seller.
The menu line includes a wide range of tarts, mousses, puddings, cheesecakes, 20 ice cream flavours, celebration cakes, bridal cakes and pastries and Motunrayo is proud to let everyone know that Licious Desserts is excellent at every single one of their product range. As someone who has built a business using her creativity and ingenuity, Motunrayo says that her focus when transitioning from a hobby to a business was to be unique and different in the Nigerian bakery industry and all her home and technical training to date fuelled by an innate creative mind has helped her to build and continue to expand her business and product line.
According to her, they were one of the top 3 dessert vendors when starting out and their pride to date is differentiating their business through ingenuity and service excellent. In a market that has so many competitors, Motunrayo has managed to keep her company running successfully. This is clearly seen in how Licious Desert is structured to be very service oriented. It has gone beyond making cakes to building relationships that puts smiles on the customer and making them a part of every celebration. As someone who is very particular about how people are treated, Motunrayo says that she continues to focus on ensuring her team members understand and express top notch quality service to all their customers.
Running a business that is very dependent on electricity and imported ingredients is also something that she deals with. In her own words: "Electricity is a major challenge, we run our generator all day and still pay high NEPA Bills. It affects our productive margin but we are learning to adapt to it." As the foreign exchange rates have not been in her favour recently, she is positioning her business source more locally produced ingredients without affecting the taste and look of her products.
Motunrayo is not stopping with where she is and plans to open mini retail outlets across parts of the country while also expanding the Licious product line to include off the shelf retail items such as packaged cake mixes, cookie mixes and waffle mixies for those who want no-stress baking at home. It was part of this strategic focus of her business that led her to enrol in the FATE Foundation Emerging Entrepreneurs Programme (EEP) 19 class where was also elected as Class Governor. One key area of her business that the EEP has really helped her to refocus on is around cash flow management and financial reporting. Now she knows how to build these "money" related areas into her strategic decision making and is also gradually putting in place key policies and processes to institutionalise this.
For someone who started from watching her mum bake to now running her own bakery business, Motunrayo knows that it takes more than passion to build a thriving business particularly in Nigeria. People and structures are very important to the growth and sustainability of Licious Desserts and Motunrayo prides herself in still having staff members on her team who were there from when she started. In addition to expanding her product line, the business will also provide training programs to those who have a flair for baking and are looking into establishing bakery businesses. As the market continues to evolve, Motunrayo intends to ensure that they do not relax but always keep being ahead of the changing dessert patterns and palettes in order to ensure Licious Desserts is always ahead of the curve.
To learn more about Licious Desserts and view more of their mouth watering desserts, please visit www.liciousdesserts.com or Cafe Licious at 60 Allen Avenue, Ikeja Lagos. You can also view pictures and make your orders by following @licousdessert on Instagram and Facebook.