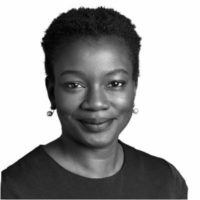 Adenike Adeyemi
Executive Director
Adenike Adeyemi is a development sector professional with 16 years of experience in non-profit management, enterprise development, education and youth enablement strategies. As the Chief Executive Officer for FATE Foundation, she leads the fulfilment of the organisation's mission to enable aspiring and emerging Nigerian entrepreneurs start, grow and scale their businesses.
Since joining the FATE in 2015, she has deepened the organisation's strategic footprint in the Nigerian entrepreneurship ecosystem through business incubation programmes; sector programs for startups and high potential businesses; growth focused support; funding and technical linkages; accelerators; ecosystem research, policy dialogue and advocacy.
Under her leadership, FATE has also expanded digital technology to support her entrepreneurs through programmes like the Aspiring Entrepreneurs: Digital for startups across the country; the msmehub.org free resource platform; and Sky's The Limit which connects entrepreneurial leaders and professionals who provide pro-bono virtual enterprise knowledge and support to thousands of entrepreneurs across Nigeria.  She has also led the development of key multi-year funding and partnership arrangements with the Youth Business International, Facebook, Citi Foundation, Accenture, Global Alliance for Improved Nutrition, Ford Foundation and the Ministry for Foreign Affairs, Netherlands.
Adenike's previous experience includes Manager, Public & Development Sector Services, KPMG Nigeria; pioneer Executive Director, Nigeria Leadership Initiative; and Learning Support Programme Management at the New Jersey Educational Opportunity Program. She started her career 17 years ago with the West African NGO Network and has Interned at the New York based Africa America Institute.
Adenike has a Masters of Public Administration and a Masters of Arts in Diplomacy and International Relations from Seton Hall University (2005) and a Bachelor of Arts in Linguistics from the University of Ibadan (2001).
Adenike seats as a Chair/Board member/advisor on leading private and public sector Committees and Boards including the MSME Council Committee on Improving the Business Environment, Afritickets, WANGONeT and the Oxbridge Tutorial College Foundation.