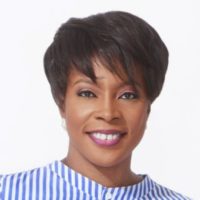 Juliet Ehimuan
Country Director, Google Nigeria
Juliet Ehimuan, named by Forbes as one of the top 20 power women in Africa, and by the London Business School as one of 30 people changing the world is Director leading Google's business strategy in West Africa and Next Billion Users initiative in Africa. Under her leadership, the Google team has made significant impact on local content development, infrastructure deployment, and digital capacity building; receiving an award for most outstanding contribution to local content development from NIMES and the NCC.
Juliet has actively contributed to developing national strategies including Nigeria's broadband plan in 2013, and ICT incubation strategy in 2012. Recent investments include commitment to provide free digital skills training to 10 million youth in Africa, training for 100K developers and an Africa Scholarships program for current and aspiring developers including support for female developers through developer groups and a women techmakers event; funding and mentoring of technology startups in Africa through a launch pad Accelerator program, and a Google Impact Challenge providing $20Million in funding to nonprofits advancing the course of education and economic prosperity in Africa.
She has over 20 years' experience primarily in technology, oil and gas, and new media industries across Europe, the Middle East and Africa. Juliet holds an Executive MBA from the London Business School, a Postgraduate degree in Computer Science from the University of Cambridge; and a Bachelor's degree in Computer Engineering from the Obafemi Awolowo University, Ile-Ife. She is a recipient of the London Business School Global Women's Scholarship, and at Cambridge University was awarded Selwyn College Scholar and Malaysian Commonwealth Scholar. She is a Fellow of the Cambridge Commonwealth Society.
She was featured in the BBC Africa Power Women series in 2016, awarded IT Personality of the Year in 2012 by the Nigeria Computer Society, Digital Personality of the year 2016 by Marketing World; and received a 2015 Titans of Technology award from TechnologyAfrica. Juliet is also founder of the Beyond Limits Africa Initiative, providing leadership and personaleffectiveness to build capacity particularly among women. The program kicked off in 2016 with a self-leadership boot camp for young women featured in the BBC Power Women Interview.