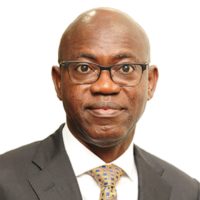 Tokunbo Talabi
Secretary to the State Government, Ogun State
Tokunbo Talabiis the Secretary to the State Government, Ogun state. Prior to his appointment, he was the Chairman of Superflux International Limited which he grew from a 2-man trading company in 1998 to over 250 employees in a full fledge ultra-modern manufacturing facility in Nigeria and has become the market leader and leading service provider to major financial institutions, government agencies in Nigeria and several African countries. Superflux International Limited won the 2008 Legatum Pioneers of Prosperity Africa Awards for her remarkable business and development programmes.
Prior to founding Superflux, Tokunbo served and headed various positions in Guaranty Trust Bank Plc. such as Corporate Banking, Retail Banking, Corporate Services and Banking Operations. He is a prominent knowledge contributor and serves on the board of several companies and committees. Tokunbo has been involved in various developmental programmes in Nigeria such as The Presidential Weekly Business Forum, Clearing House System Automation Committee, Committee on National Cash Sorting Consortium Scheme, National Smart Card project etc.
He is a mentor at FATE Foundation and a very active philanthropist with special focus in educational upliftment.